Long gone are the days of storing valuable, important files in physical storage. The world has also moved to using Hard Disk Drives to SSDs, which are faster and more efficient. But, one problem that remains the same is losing your data from these drives. And what can be more disastrous than this?
Imagine that you wake up only to find that all the valuable data stored in your SSD has been corrupted one morning. And what do you have to do during such situations? Well, you need a reliable solution to recover all the lost data.
Systools SSD Recovery is one such valuable utility tool designed to recover the corrupted, formatted, deleted, or crashed data from the FAT, exFAT, and NTFS partitions of your SSD drives. This Solid State Disk drive recovery tool is one of the best SSD recovery tools available in the market.
So, here we are with a detailed review of this SSD Data recovery tool to find out whether it's worth it for you. Without wasting any more time, let's get into the topic directly.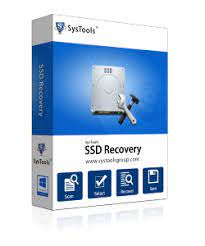 Overview of Systools SSD Data Recovery Features:
Losing your valuable data from the SSD drive is a big problem. It might lead to unimaginable losses. This SSD recovery tool has been designed by keeping all these complications in mind. Hence, you get some of these outstanding features, which might come in handy during the toughest hours. Here is a list of some of the exclusive features of the Systools SSD Recovery tool.
Recover Your Data from Corrupted SSD
Seeing your SSD drive corrupted is not something one would ever want. After all, we have our valuable data aptly stored in these efficient devices.  However, you can't really guarantee performance always. After all, these are nothing but machines. There can be a lot of reasons behind such corruption—for example, the presence of bad sectors, abnormality in controller chip functioning, virus attack, etc.
Systools SSD recovery tool preserves some explicit features, capable of recovering data from a corrupted SSD. It does not matter to which level your disk has been damaged. Systools SSD recovery can go deep and scan all of the corrupted folders and files. Thus, it can recover these files pretty soon with some of your clicks.
Complete Disk Recovery
You store all your important files into your SSD drive. These may contain different audio/videos, documents, PDFs, images, or RAW files. Most of these are important. Preserving the data is super important, whether you are using your PC for your personal stuff or business.
So, if you lose anything, you don't have to worry much. Systools SSD recovery can recover all the data contained in your SSD drive. It can run a complete disk recovery and bring out all those necessary files of yours. In fact, you will get everything in its original format, making it all the more efficient.
Formatted Solid State Disk Drive Data Recovery
It is quite obvious that if you format your SSD drive, you will lose all of your files. Therefore, most of you probably keep a backup of everything. However, you may still need to format in NTFS or FAT during unproclaimed crashes. And it leads to data loss, which might not have been backed up yet.
In these situations, recovering all these files is next to impossible. But not when you have Systools SSD recovery with you. The tool first scans all your disk drives and traces all available partitions of your disk. Finally, you will be able to see those files being restored into their original format.
Recovery of Selected Files and Data
You might not always prefer to recover all your files. Instead, you may want to be pretty selective. Planned formattings are easy. You have a backup ready. But, when you have to go for forced formats, you end up losing every bit of data from your system. At this time, Systools SSD recovery tool helps you get your data back.
But, instead of getting a whole drive recovery, you can target for selective recovery as well. It means you select only the files you require. Thus, only the most important files get recovered. The rest is not necessary. It helps you plan your storage more efficiently.
Quickly Scan the Corrupted Data
Two of the most useful features of the Systools SSD recovery tool are Quick Scan and Preview. Both these features have excellent value to play. For example, Quick Scan helps to recover the deleted files. If any file has been deleted from your SSD by mistake, Quick Scan can quickly run a check and find that for you within a few minutes.
On the other hand, preview helps you retrieve a file from a formatted disk drive. It will show the files in their respective attributes as you would have seen normally. You will find the name, create date, size, type, etc. Thus, you can actually use a quick scan and preview to retrieve deleted data or from a formatted SSD.
Maintains the File Hierarchy or On-Disk Folder Structure
Getting back all your lost data is a big thing. Many people would be happy with just getting their valuable files back. But, that's not all. You might not want to mess up with the folder hierarchy. After all, you planned and created it for organized document handling. Luckily, Systools SSD recovery doesn't alter the on-disk folder hierarchy.
Once you scan and retrieve all your documents, these get saved into the same location they were before. Most importantly, these files retain all their last details, including the same name, type, creation, and modification dates. Thus, you can easily find your files where you had saved them.
RAW File Recovery from SSD
It may happen that, at times, you get warnings like "disk not formatted" while accessing those RAW files. Such problems occur out of the blue, related to software issues. Systools SSD recovery is curated in such a way that lets you recover such corrupted RAW data on your computer.
You can recover RAW data like JPEG, PDF, GIF, ZIP, PNG, PPTX, WAV, DOCX, XLSX, AVI, etc. This feature is very helpful and comes in handy when you have lost the most important RAW files on your SSD. The process is super efficient and simple, without requiring you to put any effort at all.
Recover Normal and Permanently Deleted Data from SSD
Systools SSD recovery is also good for those simple recoveries. What if you have deleted files by mistake, and now you want it back? Well, this tool is going to be a lifesaver for you. This SSD recovery tool scans all those permanently deleted files and provides you with a preview of them.
So, it doesn't have to be those complicated software errors. Instead, Systools SSD recovery allows you to restore those files you deleted yourself but need now. It also has the smart searching option. It means that you can search these restored files based on their previous names and details.
New SSD Auto-detect
Though small, this feature might come in handy during those rush hours. This recovery software has been curated in a unique way. It automatically detects whenever you connect any external SSD to your system. Thus, you can simply select the SSD drive in the option to run a basic scan.
The recovery software will quickly scan your new external SSD drive to check the basic attributes. It will then show you the preview of various found details, such as the media type, model ID, free space, total space, etc. You can use the recovery software to recover lost files in this external SSD.
Advantages of Using Systools SSD Data Recovery
Why do we like the Systools SSD recovery tool? For one thing, this SSD recovery software is one of the best and easy-to-use software we have ever seen.
It is cheap and affordable. Furthermore, it guarantees real results. So, even if you have lost some of your files, you can always get them back. Here are some of the advantages of using Systools SSD recovery software.
Use It for Both Internal and External Devices
First of all, you can use Systools SSD recovery software for both your internal and external SSDs. This software has been designed in such a way to detect all your connected storage devices. Thus, it will automatically scan the device and show you the preview of whatever is inside.
So, once installed, you can always use it for all your SSDs. It helps you store your important files seamlessly across your devices. Also, if any of your SSDs have lost data or got corrupted, you will easily get those files back. It is one of the most prominent benefits of Systools SSD Recovery.
Simple User Interface
This software has a very simple user interface. Now, we do take it as a huge benefit. Why? As software of this kind used to have complex UI, which, most of the time, confused non-tech people. You may know all about computers and SSDs, but your friend may not.
This software has been designed to fit every mind. You may or may not have used anything like it before. But, you won't need a detailed guideline to learn what it does. It doesn't require any coding or anything that complex. Retrieving your files and documents is a matter of a few clicks.
Scan and Preview Data before Repairing
Another advantage of using Systools SSD recovery is its scan and preview feature. We have already talked about how you can actually restore selected files. It is a huge advantage. You might not want all those precious files back. The scan and preview feature gives you a detail of all those restorable folders.
Thus, you can actually select which ones you want to keep. You can simply select those and click on restore to get those back. These files will be saved at the exact location where it was before. So, it doesn't affect your disk hierarchy at all.
Disadvantages of Using Systools SSD Data Recovery
Now, let's talk about the disadvantages here. Well, yes, it probably has only one disadvantage. And what's that?
We hope that you are planning to install this SSD recovery tool for your Windows PC. If so, you are good to go. But, what if you have a Macbook?
Well, sadly, Systools SSD recovery isn't compatible with MacOs. So, if you want to recover your Macbook data, you can't do that with Systools. It is not a disadvantage for Windows users but for those on macOS.
So, it is up to you whether or not you take it as a disadvantage. Except for this, we didn't find anything else to point out.
How to Use Systools SSD Data Recovery
As mentioned earlier, using Systools Hard Drive Data recovery is very smooth and time-efficient. Here are a few tips you need to follow to restore your lost data:
Step 1:
Once you have got the package, install it in your system and run it.
Step 2:
Now, select the Partition of your SSD from which you have lost the data. Click on Scan.
Step 3:
Now you can see the preview of the files. You can select the ones you want to keep or restore.
Step 4:
Finally, save the final result back to your host machine.
Conclusion
In the end, the only thing that is left to say is that Systools SSD recovery is an excellent software for one to have. You might have the best PC in the world. But, it doesn't guarantee you the safety of your files and folders.
Crashes and disk corruption can happen because of a lot of reasons. Keeping a backup is a way of securing your files. But, that might not always be possible. So, having recovery software such as this one will be an excellent decision. And that was all about the Systools SSD Data Recovery review.