If you are here, you are probably one of those rare creatures who thrive on books. The world has come a long way from paper prints to its electronic version- Ebooks. If you download or buy a lot of those, you probably have quite different platforms and devices already to read them on.
But, what if you could read everything on one single platform? Yes, if you are looking for something to help you convert an ebook to a suitable format, accessible on any device, consider it already in your hands. Epubor Ultimate is one such software that helps you convert ebooks to various formats, including PDF, Epub, TXT, etc.
Of course, there are a lot of similar platforms. And so we are here, with the Epubor Ultimate review, to find how capable it is. Should you buy the premium version of it? Or, should you not? Without further ado, let's find out the answer.
What is Epubor Ultimate?
Epubor Software is a world-renowned software developing company with diversified software services and products. Epubor Ultimate is one of their famous DRM removers and Ebook converter software. DRM or Digital Rights Management is a digital footprint that is used to protect Ebook content from piracy.
Epubor Ultimate helps you remove DRM from ebooks, convert Ebooks into different formats, and provide you with a library that is easily accessible. Thus, it makes a safe library where you can store all your precious pages filled with heartfelt stories. This way, you can keep a backup and never worry about losing anything.
Now, let's look at the highlights of Epubor Ultimate.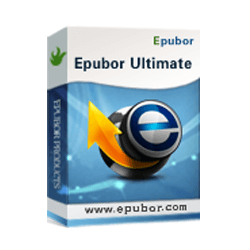 View Price on
Overview of Epubor Ultimate Features
Let's just say that Epubor Ultimate has acquired quite a reputation in the market among ebook readers. Sure, it has flaws. But, still, its features are unmatched. Below are some of the most highlighted features of Epubor Ultimate, which makes the software one of the most sought-after in recent days.
DRM Remover from Ebooks
DRM or Digital Rights Management is a digital footprint. In case you have missed it before, DRM helps protect ebooks from piracy. So, as long as an ebook has DRM protection, you can't really use it without a password or change its format, for that matter.
Epubor Ultimate has one of the best DRM removal tools. It can easily strip DRM protection from any ebook from platforms, such as Kindle, Google Play, Kobo, Barnes & Noble. So, the supported DRM types in Epubor Ultimate include Kobo DRM, Kindle DRM, Nook DRM, and Adobe Adept DRM.
The DRM removal tool in Epubor ultimate has a 99% success rate, making it one of the best DRM removal software in the market.
However, it might seem that Epubor encourages pirates to snatch book DRMs, which is not the case. You can only strip DRM of a book that you have purchased. Without a legal license, you can't use Epubor software to remove the protection. In that way, it maintains authenticity while ensuring your ease of use.
Easy to Use Interface
Ebook CoEase of use is one big thing that comes largely when using any software for the first time. No one would ever like software like this one to be complicated. After all, Epubor is, in a way, a book storing library with several other features.
Thankfully, this software has been developed in such a way that anyone can use it. You don't need to follow strict instructions or have sound technical knowledge. Epubor Ultimate has a simple, pleasing user interface, making it a feast to your book conversion experience.
Convert to PDF, EPUB, and Other Formats
The next big use of Epubor Ultimate is converting ebooks into different formats. You can only read ebooks on the platform where you purchased them. For example, you can't read a Kindle ebook on Google Play. So, if you want to store each of your collections into one specific folder, you can't.
The only way to do so is to convert the file format into PDF, TXT, or other relatable formats. Epubor Ultimate lets you convert ebooks into different other formats, which you can read on any platform. The available formats in Epubor are:
AZW3 – The format in which Amazon books are encoded. AZW3 is the latest version of AZW.
PDF- PDF or Portable Document Format is the most famous document format developed by Adobe. This format also supports 3D images.
ePub- ePub was first introduced and developed by the World Publishing Forum (IDPF) in 2007. It used to be one of the most accepted formats for some time.
Mobi- Mobi was developed by Mobipocket and used on Blackberry devices, Windows Mobile, Kindle, Palms, etc.
TXT- TXT is a plain document format. It only records texts.
Epubor helps you convert your files into each of these formats so that you can read them on any device you like. For encrypted books, you can simply suck out the DRM protection and convert it into your desired format.
Easy Meta-data Editor
If you don't like the default metadata of your book, Epubor Ultimate lets you edit that. Sometimes, some books come with improper metadata. After you convert an Ebook to a specific format, Epubor lets you edit the metadata. Here you can put additional data or rewrite the written ones.
In the metadata editor, you can change the Book name, Author's name, put identifiers, modify its data, and make other necessary changes. It will help you keep a detailed track of everything that you download.
Well-Designed Library with PC support
The library on Epubor Ultimate has a decent design. All the books you download or store in Epubor get into one place. Thus, you can easily access all your files from one specific folder. It means that you no longer need to have different apps for different ebook platforms.
But, Epubor Ultimate walks a little further. It has auto-detection features. It means that whenever you connect your device- phone or any ebook reader, with a cable to your PC, all the books automatically get loaded on the software. So, you don't have to fetch those manually. The scanner feature is an outstanding addition to its features.
Super Customer Support
It's not that you will face major trouble with Epubor Ultimate. But, still, Epubor Software has a very strong customer support team. If you have any queries regarding their products, you can easily contact their helpline to resolve your issue. Likewise, if you face any trouble with Epubor Ultimate, you can contact them to get yourself assisted.
Advantages of Using Epubor Ultimate
So, why should you go for Epubor Ultimate? Is it worth your time? You have already seen the most highlighted features of Epubor Ultimate. It is a fine DRM remover tool, which comes with an ebook format converter. So, here are some of the advantages of using Epubor Ultimate:
Intuitive Design
As said earlier, Epubor has an excellent UI. When you use this software, you don't have to learn a lot. It's easy and intuitive design makes it very simple. So, anyone without any prior technical knowledge can use Epubor Ultimate and convert books into their desired formats.
Syncs with Different Ebook Libraries
When you are a bookworm, you have your footprints on different ebook platforms. While Ebooks are definitely a new way of subsiding your thirst for knowledge, reading them on different platforms might get hectic at times. Sometimes you might get confused about which book you kept where.
When you download Epubor Software and connect it to your Ebook readers, it automatically syncs all your purchased books to its library. So, everything remains stored in one place, while you can have fun collecting all the more.
Best DRM Protection Remover
If you are looking for the best DRM protection remover software, Epubor is the one in hand. It has one of the best DRM removal tools, which can suck out the protection out of your ebook. However, it should remain clear that Epubor does not support piracy. You can only remove DRM from an Ebook when you have purchased it and have a valid license.
Disadvantages of Using Epubor Ultimate
Epubor Ultimate has certain disadvantages as well. However minute, you should know about these disadvantages to make an educated decision. So, here are some of the disadvantages of Epubor Ultimate
Limited Access with Free Version
We felt that Epubor Ultimate gives you very limited access with its free version. You can't remove DRM with it. So, if you want to do more with the software, you must purchase the paid version. Thankfully, the paid version of the software isn't that lofty, thus easily affordable.
Sync Using Only Desktop App
The sync feature on this one only works on the desktop app. It is certainly a limitation since you won't be able to use the function on your mobile or other smart devices.
Only English Support
Epubor only supports the English language. Although you wouldn't be here if you did not understand English, it might be a problem for some.
How to Download Epubor Ultimate in Windows
Epubor Ultimate is available for both Windows and Mac. As said earlier, the software is pretty easy to use. Follow these simple steps below to use the software on your system.
Download the software for your Windows or Mac Pc.
Once you have downloaded it, launch Epubor Ultimate. Accept the settings and allow the required approvals.
The software will then scan all the books available in your system. It will show you the list of the books you have on different platforms. Also, if you connect any of your devices to the PC, the software will automatically sync those into the system.
You can now drag one book from the left panel to the right for DRM removal.
Once done, select the file output format. You can choose from different available formats, such as PDF, ePub, TXT, etc.
Once selected, click on "Convert to" to start the process.
Now click on the folder icon below to go to your DRM-removed ebook library.
View Price on
Conclusion – Epubor Ultimate Review
While reviewing Epubor Ultimate, we came across some of its unmatched features. This software has been designed very minutely, compiling the needs of users. So, it is safe to say that Epubor Ultimate is a user-centric software specifically designed for ebook lovers. It has one of the finest DRM remover tools, with an efficient book format converter- all boxed in an affordable price package.